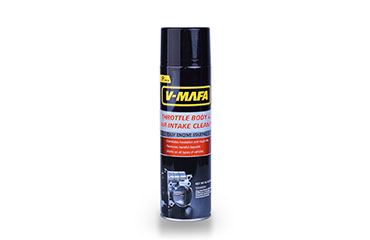 Throttle Body and Air Intake Cleaner
Throttle Body and Air Intake Cleaner efficiently removes power stealing deposits, gum and varnish from throttle body and air intake systems on all vehicles. A cleaned throttle assembly will have its power restored and your vehicle will benefit an 'as-new' acceleration and engine performance. lt will smoothen out idling and help reduce engine wear. Our product is safe for use on coated throttle bodies and carburettors.

1、Cleans Butterfly, throttle valve, throttle body and idle valve
2、Eliminates harmful build-ups
3、Reduces hesitation
4、Smoothens idle
5、Restores lost power
6、Reduces Engine Wear
Directions for use
important: Shake well before use. This product is suitable for gasoline and diesel engines, as well as turbo charged or supercharged engines. Do not spray on air filter or across the mass air flow sensor. Remove air intake duct and air filter completely from the throttle body. Remove mass air flow sensor if necessary. Firstly, with the engine off, generously spray into throttle body valve area and let it soak for 2-3 minutes to take effect. Then, start the engine and spray the entire area, including throttle body valves, nozzles, flow meter plates, air inlet valve, at short intervals until solvent penetrates and dissolves all contaminants. Increase engine revs if necessary at the same time to prevent stalling. Replace Air filter after cleaning.