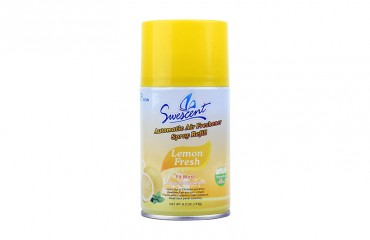 300ML Automatic Air Freshener Refill
Keep out of Children and Pets
Caution: Eye and skinirrit
Flammable, contents under pressure.
Read back panel carefully.
Automatic Air Freshener Spray Refil inspires peace and relaxation anywhere in your home, fills the air in your home with perfect freshness on a daily basis or as the final touch. Enjoy the continuous freshnes in your bathroom, living room, office or den. It comes in large variety of fragrances, delivers the pleasant, fresh smelling for up to 60 days on the low setting.
Directions:
1.Timer of your dispenser is set to off position, make sure the spray nozzle keep away from your faces all the time.
2.Remove the cap from the can and insert the can into dispenser with the nozzle facing out.
3.Turn the aut on by selecting your desired time setting in minutes, a spray will occuat the selected time interval.
Danger:
Flammable. Contents under pressure. Exposure to temperatures over degrees F (49 degrees C) or prolonged exposure to direct sunlight may cause bursting. Do not use near open flame, sparks or dirds. Do not puncture, freeze and incinerate, do not use on fabrics. use in well ventilated areas.
FIRSTAID:
If eye contact occurs, remove contact lenses and flush eyes well with water for at least 10 minutes. If swallowed, do not inducevomiting, seek a Poison Control Centre or doctor immediately. Individuals with sensitive skin should tke appropriate precautions, if contact with skin, immediately rinse with water, then wash with soap.
KEEP OUT OF REACH OF CHILDREN AND PETS.