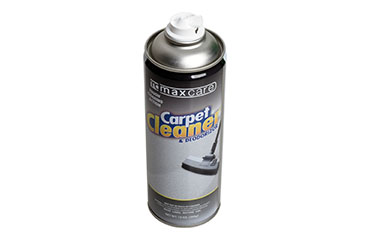 Carpet Foam Cleaner
No more scrubbing to remove normal dirt! This fast acting,
convenient foam spray cleaner penetrates deep into carpet fibres
to loosen colour dulling soil. Great for quick treatments on spills
to prevent staining. This special formula contains deodorizers that
leave your carpet smelling clean and fresh. Works great on high traffic
areas, stubborn spots and areas of soil build-up. Safe for all colourfast carpets.
DIRECTIONS:

Spray on a small, hidden area of carpet to test for colourfastness.
Vacuum rug thoroughly.
FOR NORMAL USE:
Shake can thoroughly. Hold can approximately 2 feet above carpet with an even layer and leave to dry.
Use a new vacuum cleaner bag with maximum suction.
FOR HEAVIER SOILED AREAS:
Spray on foam and rub in with a moist brush or sponge. Leave to dry. Vacuum thoroughly.