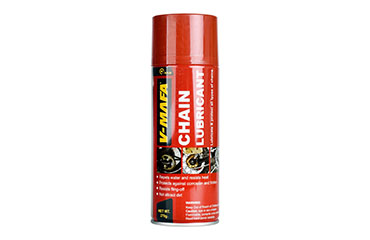 Chain Lubricant is sepcially formulated to lubricate and protect allntypes of reller chains operating in exposed conditions, provides high lubricity and foaming action penetrates into rollers and displaces water. Its high lubricity and foaming action penetrates into rellers and diaplaces water, and will not be thrown off at high speeds.

APPLICATIONS:
Motorcycle, bicycles, chain saws,and any chain-driven vehicle or equipment.

DIRECTIONS:
1.Shake can well.
2.Flip straw up for stream or down for spray.
3.Saturate area, let soak for several minutes.
4.For best rust protection, do not wipe off.
WARNING: May cause eye, throat and skin irritations, avoid contact with eyes and prolonged contact with skin. Intentionally misuse by concentrating or inhaling contents maybe harmful.

PRECAUTION: Flammable. Contents under pressure. Exposure to temperatures over 120 degrees F (49 degrees C) or prolonged exposure to direct sunlight may cause bursting. Do not use near open flame and sparks. Do not puncture, freeze and incinerate the bottles. Use in well ventilated areas.

FIRST AlD: lf eye contact occurs, remove contact lenses and flush eyes well with water for at least 10 minutes. lf swallowed, rinse mouth thoroughly and seek a doctor immediately. Individuals with sensitive skin should take appropriate precautions. lf inhaled, breath fresh air. lf contact with skin immediately rinse with water, then wash with soap.
Keep Out OF Reach of Children and Pets.
EMPTY TANK TREATMENT: Dispose of contents and container in accordance with local laws and regulations.