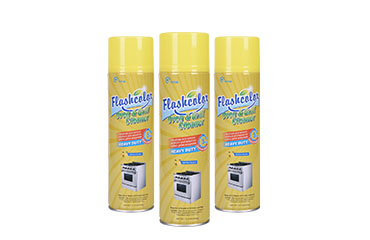 DIRECTIONS: SHAKE CAN WELL BEFORE USE, AND FREQUENTLY DURING USE.

Wear long rubber gloves. Do not get on skin, clothing or in eyes.
WARM OVEN (Quick Cleaning)
Preheat aven to NOT OVER 200°F, then turn oven off before applying oven cleaner (temperature above 200°F will cause foam to smoke and dry too fast).

Wear long rubber gloves and eye protection while using.

Adequately protect the floor under the oven and all surrounding external surfaces. For ease of application remove oven racks and clean seperately.

SHAKE CAN WELL BEFORE SPRAYING. Hold can upright, POINT AWAY FROM FACE. Spray oven surface from a distance of 9"- 12". Align spray nozzle with black dot. Spray top oven first then spray side and bottom.

Wipe off any excess and close door tightly.

Allow foam to work for 5 to 15 minutes, then wipe clean with a wet sponge or cloth, rinsing oftenAfter drying rewipe with clean sponge or cloth. Rinse racks and broiler pan in sink. Carefully rinse spray nozzle with warm water, replace safety cap. Wash hands thoroughly.
COLD OVEN (Easy Overnight Cleaning)
Do not preheat oven.

Follow directions 2 through 6 as above.

Allow foam to work for 6 hours or longer.

Wipe clean with wet sponge or cloth, rinsing frequently.
DANGER: Contains sodium hydroxide (LYE).
KEEP OUT OF REACH OF CHILDREN.
WEAR LONG RUBBER GLOVES AND EYE PROTECTION WHEN USING THIS PRODUCT ConTACT WILL BURN SKIN AND EYES AVOID ConTACT WITH EYES, NOSE, SKIN AND CLOTHING HARMFUL IF SWALLOWED. DO NOT BREATHE SPRAY MIST. DO NOT TAKE INTERNALLY.
FIRST AID: Eyes: Rinse immediately, remove any contact lenses and continue flushing with water for at least 15 minutes. lf discomfort persists, seek mediacal advice immediately.
Skin: lmmediately remove rings and contaminated clothing, wash skin thoroughly with soap and water. Continually flush for 15minutes.lf irritation persists seek medical advice immediately. IF SWALLOWED DO NOTINDUCE VOMITING: Rinse mouth thoroughly with water, drink large amounts of water or milk, and seek medical advice immediately.
PRECAUTIONS: Recommended for use onLY on porcelain, enamel, iron, stainless steel ceramic and glass surfaces. Do not use on exterior oven surfaces, aluminium, chrome, baked enamel. Do not use on continuous or self-cleaning ovens. Adequately protect floors and all surrounding surfaces. Avoid spraying oven pilot light. Keep off all electrical connections such as heating element, thermostat, bulb receptacles, light switch. Avoid freezing. USE onLY AS DIRECTED.